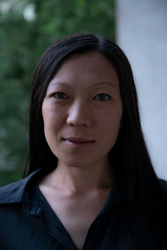 Jane Jin Kaisen
Jane Jin Kaisen is a visual artist and filmmaker born in Jeju Island, South Korea and adopted to Denmark in 1980. She is currently based in-between Berlin, Copenhagen, and Jeju.
Kaisen's practice is propelled by a sense of necessity and an aspiration for carving out spaces for critical reflection and dialogue. Working with experimental documentary, multi-channel video installation, performative video art, photography, and text, she engages themes of memory, trauma, migration and translation at the intersection of personal and collective histories. Through her artworks that resonate as both critical translations and poetic testimonies, Kaisen works with layered modes of storytelling and experimental usage of voice, image, sound, gesture, and archive material.
In configuring alternative genealogies, her artworks destabilize normative representations and linear conceptions of time and space while gesturing towards emergent communities and embodied memories that linger ghostly at the margins of the seeable and sayable. While each work is driven by its own aesthetic and discursive inquiry, together they form a multi-faceted and in-depth commitment to transnational and gendered histories related to coloniality, modernity, war and borders.
Kaisen holds an MFA from the University of California Los Angeles, an MA from The Royal Danish Academy of Fine Arts, and was a 2007-08 fellow at the Whitney Museum of American Art Independent Study Program. She is currently completing her PhD in artistic research at The Royal Danish Academy of Fine Arts / University of Copenhagen and serves as a member of the Danish Arts Foundation Committee for Visual Arts Project Funding.
Kaisen has exhibited, screened and lectured about her work in various contexts, most recently at venues such as the 68th Berlinale International Film Festival and Haus der Kulturen der Welt in Germany, Jeju Museum of Art, ArtSpace C, and Seoul Museum of Art, in Korea, Kunsthal Aarhus in Denmark.